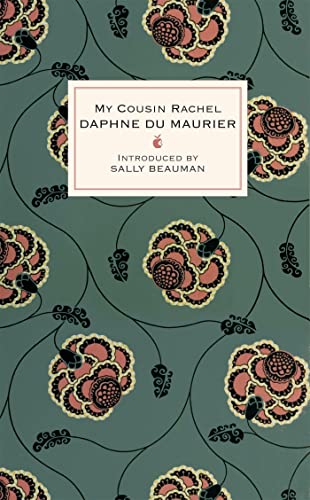 Orphaned at an early age, Philip Ashley is raised by his benevolent older cousin, Ambrose. Resolutely single, Ambrose delights in Philip as his heir, a man who will love his grand home as much as he does himself. But the cosy world the two construct is shattered when Ambrose sets off on a trip to Florence. There he falls in love and marries - and there he dies suddenly. In almost no time at all, the new widow—Philip's cousin Rachel—turns up in England. Despite himself, Philip is drawn to this beautiful, sophisticated, mysterious woman like a moth to the flame. And yet…might she have had a hand in Ambrose's death?
Daphne du Maurier's become one of my favourite authors in recent years, and after I read and enjoyed Frenchman's Creek, Rebecca and Jamaica Inn it was only natural that I was eventually going to pick up My Cousin Rachel, especially with the forthcoming adaptation starring Rachel Weisz and Sam Claflin. Unfortunately this is probably the du Maurier novel I've enjoyed the least so far, which isn't to say I didn't like it, but I've definitely enjoyed her other work much more.
When Philip Ashley becomes a very young orphan, he is taken in by his much older cousin, Ambrose Ashley, a proud bachelor who adopts Philip as his heir knowing he has no intention to marry and have children of his own. The two live together harmoniously, Philip idolising his cousin in an almost unhealthy manner, until Ambrose takes off to Europe for his usual annual holiday only to never return. Philip receives letter after letter revealing his cousin has fallen madly in love with a half Italian, half British widow, Rachel, and the two of them marry. Months later Ambrose dies, his last letter to Philip seeming to apply his new wife has had something to do with it. When Philip has the chance to meet his cousin's bride he's determined to make her admit her guilt, but finds himself being enchanted by her himself.
We'll start with what I liked, because what I really didn't like about this book is sitting at the back of my throat like a foul taste.
As always, du Maurier's writing didn't fail to sweep me away. I love the way she writes; I'm not even sure that I'd describe du Maurier as the world's greatest writer, though of course she certainly isn't bad, but what she is is a fantastic storyteller. She sets a scene and weaves a tale that's so engrossing, with characters who are so well realised, that I'm baffled there was room for all of the characters she created during her career in her head.
My Cousin Rachel can certainly be described as a Gothic novel; there's a real sense of uncertainty throughout the book that I really enjoyed as du Maurier plays around with the possibility of Ambrose's death being a deliberate murder or simply the mental unravelling of a man who has a history of mental illness in the family, as does Philip. In fact Philip seems to take on the stereotypical role of the Gothic heroine, an unworldly, virginal man isolated in a country estate and at the mercy of a potentially dangerous outsider.
Speaking of potentially dangerous outsiders, I liked Rachel a lot, she was probably my favourite character in the novel. I'm always intrigued by characters who are complex, so complex that you like and dislike them in equal measure and are never quite sure which side of them you should trust more, particularly when the story is being told by a person who both loves and despises that character. I spent most of the novel unsure as to what the outcome was going to be (although I'm a tad annoyed that the trailer for the new adaptation, which I'd been avoiding, popped up on the tv one evening and revealed a huge plot point just before I got to it in the book) and while I did enjoy that suspense, I do also think the book could have been shorter than it is. Then again, that's probably because it would have meant spending less time with my main problem with the novel: the main character.
Philip is so, so irritating. He's misogynistic, ignorant, brooding, sulky and, on one occasion, quite violent, all while feeling terribly sorry for himself and pining for his cousin. I don't doubt for a minute that Philip would love his cousin, the man essentially raised him, but there's something almost homoerotic about his jealousy towards his cousin's wife, and when he wasn't trying to be with his cousin he was trying to be his cousin. From an English graduate's perspective Philip would be a great character to write an essay about, but he wasn't fun to read about for pure enjoyment. I found him childish and whiny, and it's all down to him that, so far, this has been my least favourite du Maurier novel. I didn't care what happened to him and I'd've much rather read a story about Rachel, particularly as she has spent most of her life in Florence which just so happens to my favourite European city. I'm a little bit obsessed with Italy, so it's a shame a du Maurier book with so much of Italy in it didn't quite tick all my boxes.
So would I recommend My Cousin Rachel? Yes, especially if you're already a du Maurier fan, but I do think it's longer than it needs to be and that it has an exceptionally irritating hero. If those kinds of things don't bother you I'm sure you'll enjoy this novel even more than I did, and if they do I promise you'll still love du Maurier's raw talent for storytelling.