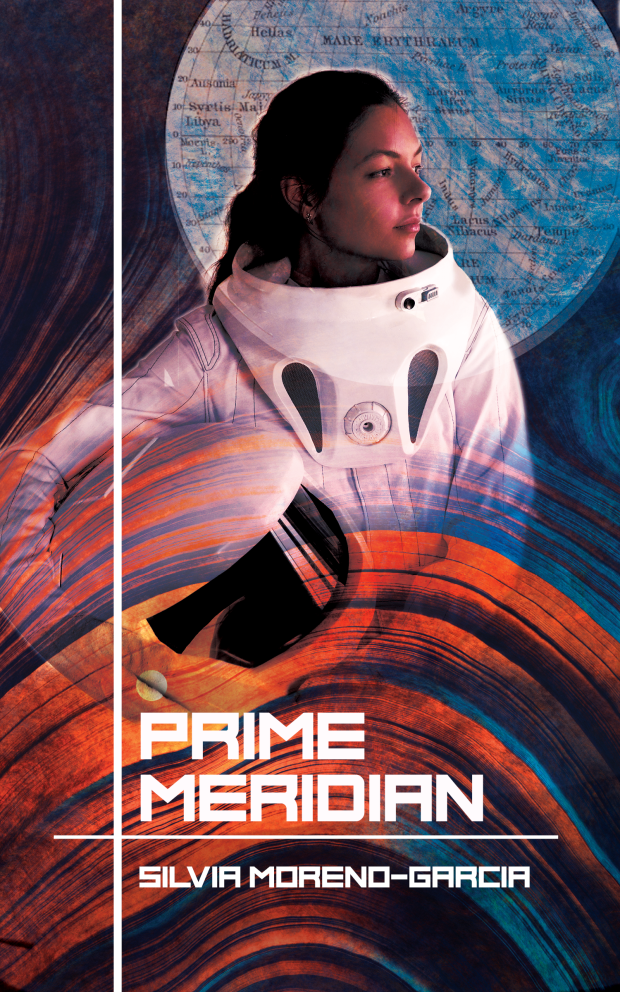 Amelia dreams of Mars. The Mars of the movies and the imagination, an endless bastion of opportunities for a colonist with some guts. But she's trapped in Mexico City, enduring the drudgery of an unkind metropolis, working as a rent-a-friend, selling her blood to old folks with money who hope to rejuvenate themselves with it, enacting a fractured love story. And yet there's Mars, at the edge of the silver screen, of life. It awaits her.
I've been a huge fan of Silvia Moreno-Garcia's work since her debut novel, Signal to Noise, became one of my favourite novels of all time back in 2015 so I couldn't let the opportunity to support the publication of her new novella pass me by. I, along with the other lucky backers, were able to receive copies of Prime Meridian in December, but it will be available for everyone else to buy this summer!
I've read two of Moreno-Garcia's novels so far and am currently reading her third, The Beautiful Ones, and I've also read one of her short story collections, This Strange Way of Dying, so I was interested to see her bridge the gap between novel and short story with a novella. Novellas are something I've become more and more interested in lately and there are so many more I'd like to read, and now I'm glad to have this one under my belt.
At this point Moreno-Garcia is already one of my favourite authors so I knew I was going to enjoy it, but I didn't know what to expect from it. In the realms of SFF I lean far more towards fantasy than science fiction and the science fiction I do love is quiet, character-focused sci-fi such as Becky Chambers' The Long Way to a Small, Angry Planet. Luckily for me, Prime Meridian is also that kind of sci-fi.
Amelia is a college dropout, forced to quit her academic pursuits to look after her mother before she passed away and now stuck sharing a tiny apartment with her pernicious sister. Now she works odd jobs, from working as a professional friend for the lonely to donating blood to those who believe it will restore their youth, all the while dreaming of a fresh start as a colonist on Mars.
Once again Moreno-Garcia's writing was a dream. This is moody sci-fi at its best, full of equal measures of regret and hope and reminiscent of films such as the 1990 version of Total Recall with elements of early sci-fi novels such as Edgar Rice Burroughs' A Princess of Mars. There's a wonderful Old Hollywood vibe throughout the story, making this the ideal novella for fans of Catherynne M. Valente's Radiance or indeed for any fans of those old classic movies starring beauties like Grace Kelly and Tippi Hedren.
But it's Amelia who ultimately steals the show throughout this story. What I love about her is how unspectacular she is. She's a young woman like any other, looking around at her life and wishing for something better in a city where there are no jobs and all the money she does manage to earn has to go on getting by one day at a time. There are so many times when she could settle for what's in front of her, even a relationship with someone who has the finances to keep her in a better place than the one she's accustomed to, but that dreamer in her never quite goes to sleep, never quite gives up, and it's her quiet persistence I loved most.
I'm in the middle of a bit of a change in my own life right now. Next week I'm starting a new job and moving to a new city where I know absolutely no one, and this novella was just the kind of pep talk I needed. Whether you love sci-fi or you're fairly new to the genre there's something in this novella for you, and I implore you to get your hands on a copy later this year.