When I was younger I was never intimidated by big books, but I suppose 'big' is very subjective. For me, a really big book is anything that's 600 pages or more, and yet when I was younger reading Harry Potter and the Order of the Phoenix was nothing, nor were the chunky latter two books in Cornelia Funke's Inkworld trilogy. Lately the biggest book I've read is the conclusion to Marissa Meyer's The Lunar Chronicles, Winter.
For some reason, as I've gotten older, I've begun to find larger books incredibly intimidating and I'm not 100% sure why. I think I've been so eager to read as much as I can in one year because there's always so much I want to read and too little time to read it all in that I've let the big books on my TBR gather dust. Well not anymore! Some books have been on my TBR for far too long, and if I could cross even one of these books off my TBR this year I'd be a very happy bunny.
My lovely friend Natalie @ A Sea Change has sung the praises of Susanna Clarke's Jonathan Strange & Mr Norrell many times, but I still haven't read my copy despite owning it for a few years now - it has footnotes, for Heaven's sake! I've heard so many readers praise it as a masterpiece, however, so I need to read it soon.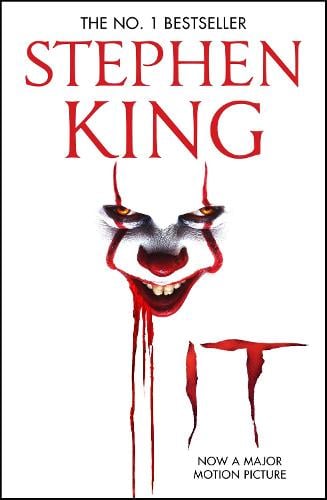 I'm not the biggest fan of Stephen King's writing, especially when he writes about the supernatural - so far Misery is the book of his I've enjoyed most - but I adored the 2017 adaptation of IT so much that I'd really like to give the book a shot. It's just so huge...
This year will mark nine years since I bought my copy of Alexandre Dumas' The Count of Monte Cristo. Nine years. I love a good ol' revenge story and I've actually tried to read this one a couple of times and haven't been able to get into it. One of these days I need to give it another try and, if it still isn't for me, it's time to send my edition off to a more loving home.
Despite being a proud northerner and a lover of Victorian literature, I'm ashamed to admit I've yet to read any Elizabeth Gaskell. One of these days I'm going to read North and South because I love the 2004 adaptation starring Richard Armitage and Daniela Denby-Ashe, but Wives and Daughters is the one that's really calling to me because I've heard so many good things about it. I particularly like that it features a friendship between two stepsisters at the centre of it - step-families have something of a bad reputation in fiction!
I fell in love with Italy when my friend Elena and I visited Rome in 2015, and I've since been lucky enough to visit Florence and Bologna, too. Italo Calvino has selected and retold a variety of stories in Italian Folktales - there are just so many crammed into one book that the idea of starting it makes me feel a bit nervous! I think it's a book I might have to work my way through over an extended period of time.
I've said time and time again how much I want to start Diana Gabaldon's Outlander series, particularly as I'd like to watch the TV adaptation, but the series is so long and each book is so big that it seems like such a huge commitment. One of these days, though, I'd at least like to cross the first book off my TBR and see what I think of the series.
The shortest book on this list, Ken Liu's The Grace of Kings is still a fairly chunky one at just over 600 pages. I was very kindly sent this one for Christmas by Lorraine @ Insanity Sandwich and was thrilled to receive it as I'm very eager to explore more Asian and African-inspired high fantasy. This is one I'm hoping to cross off my TBR very soon!
Another one I've had on my list for a few years now, as a historical fiction fan I'm ashamed to admit I've yet to read any Sharon Kay Penman. Here Be Dragons is a novelisation of Joan, Lady of Wales (also known by her Welsh name, Siwan) who was the illegitimate daughter of King John and was married to the Welsh Prince Llywelyn the Great (or Llywelyn ap Iorwerth). I've been fascinated by her ever since I learned about her which is particularly frustrating because so little about her is actually known. This is another one I'd like to cross off my list sooner rather than later!
Are you intimidated by big books? Which larger books would you like to cross off your TBR?