I saw Shannon @ It Starts at Midnight doing this and had to have a go of it myself, so here goes!
Favourite Scary Story
I think Susan Hill's The Woman in Black is one of those iconic scary stories. It's been a long time since I read the book, but what really scared the bejeezus out of me was the play, which I went to see while I was at school. It's a fantastic play, and I'm pretty sure I slept with my light on for about a week after seeing it. I do think the book's worth reading, but if you get the chance to see the play go and see it!
Favourite Book with a Murdery Mystery Plot
This has made me realise that I need to read more murder mysteries. To link in with the Halloween theme, I think I have to go with My Life as a White Trash Zombie by Diana Rowland; it's the start of such a fun urban fantasy series, featuring zombies as you probably haven't seen them before - check it out!
Favourite Book with a Ghost
It has to be The Little Stranger by Sarah Waters, which is one of the best books I've read this year and has a firm place on my list of favourite books. It's fantastic.
Favourite Paranormal Supernatural Book
I decided to change the wording of this one a little because, to me, paranormal means something that might be explained by science - like ghosts or aliens - and I don't tend to read many books about aliens and I've mentioned two books with ghosts already, so I think it's best I talk about something else! In terms of the supernatural, my favourite book is probably Carmilla by J. Sheridan Le Fanu, a pre-Dracula 19th century novella featuring vampirism. It's so good, and it's a great place to start for anyone who finds classics intimidating.
Favourite Retelling
The Lunar Chronicles, of course! I know this is probably cheating, but I can't pick just one book from the series because I think Marissa Meyer has done such a good job at mixing these tales together into one big story while also fitting each retelling so wonderfully into the narrative. I love the way she's reimagined traditional fairy tales for a sci-fi setting, and Cinder is one of my favourite heroines.
Female Character You'd Most Want to Dress Up As
Okay so she's not a book character, but one day I'd love to dress up as Sally from The Nightmare Before Christmas. It's one of my favourite films - I watched it religiously as a child - and I just think it'd be a really cool costume.
Male Character You'd Most Want to Dress Up As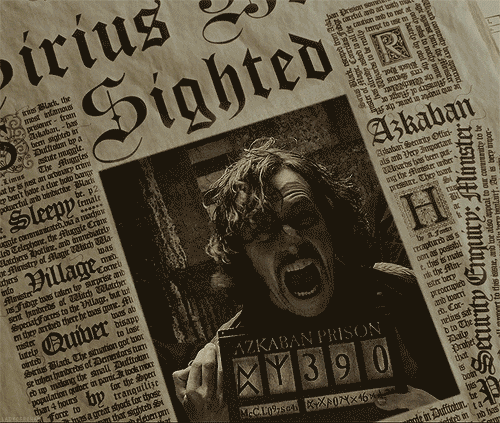 I think Sirius Black could be pretty cool, especially Sirius as he's seen in his wanted poster. He has long hair, so I wouldn't need to cut mine, and it'd just mean making myself look a bit grimy and unwashed. Plus I bet everyone would know who I was!
This is a tricky one because I feel like a lot of the books I really love don't tend to have villains in the traditional sense. A lot of the time the villain is circumstance or even the protagonist's own decisions. I do love Mrs. Danvers from Daphne du Maurier's Rebecca, though. That woman is terrifying!
Favourite Short Story/Novella
For Halloween that'd have to be 'The Lottery' by Shirley Jackson. It's so worth a read if you haven't read it yet, it'll only take five minutes!
What's Your Favourite Scary Movie?
I don't tend to watch horror movies that much because I'm a bit of a wuss, and also because some of them are just gratuitous for the sake of it. One film I really love though, and one that's perfect for Halloween, is Sleepy Hollow. It's historical, which is right up my street, it's got Johnny Depp in it, also right up my street, and it's directed by Tim Burton, who's one of my favourite directors. I love it!
If you want to do this tag then consider yourself tagged! Happy Halloween!