Top Ten Tuesday is a weekly feature created at The Broke and the Bookish. Each week you compile a list of ten books which coincide with that week's theme. You can find everything you need to know about joining in here!
This week's theme is 'Ten Books I Wouldn't Mind Santa Leaving Under My Tree'. Merry Christmas, everyone!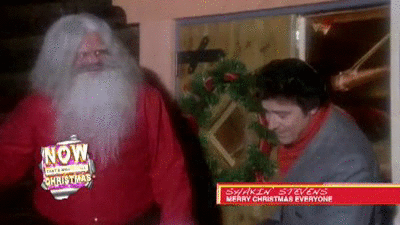 A Visitor's Companion to Tudor England by Suzannah Lipscomb: I'm a big fan of Suzannah Lipcomb's documentaries and what I love about the sound of this book is its interactivity. Lipscomb has compiled a list of places to visit which have a connection to the Tudors that are available to visit, and I think it'd be so much fun to explore Tudor Britain with a copy of this in my bag.
Red: A History of the Redhead by Jacky Colliss Harvey: I love books like this which look at something very particular and explore its history, and there's something really interesting about the history of people with red hair; Mary Magdalene and Lilith were often depicted as redheads in art, and having red hair was one of the signs that a woman was a witch according to the Malleus Maleficarum, one of the most evil books ever written. This sounds like a really interesting read and the cover's gorgeous!
The Good Immigrant ed. by Nikesh Shukla: I saw Nikesh Shukla speak at the London Book Fair this year - he made the news by sending a porkchop into space to promote his first novel - and he was fantastic. Given our current political climate, that I still can't quite believe is real, I think this is such an important book and I've heard fantastic things about it.
The Witches by Stacy Schiff: Perhaps you've noticed, but I'm fascinated by the history of witchcraft. Shocking, I know. As a British person I grew up learning an awful lot about the witch trials in Britain and Europe, but the Salem Witch Trials are probably the most well-known trials in the world. Yet I know absolutely nothing about the Salem Witch Trials. This book is essentially a history of the trials, one that was written fairly recently too, so I think it'll be a great introduction for me.
The Astronomer and the Witch by Ulinka Rublack: Yet more witches. This little book tells the story of Johannes Kepler, a famous astronomer, astrologer and mathematician, whose mother was accused of witchcraft. When it came to her trial it was Johannes himself who stepped up to defend her and I'd love to learn more about this moment in history.
Crane Pond by Richard Francis: The only novel on my list (I've got my eye on a lot of non-fiction this year) and one that could happily be read alongside one of the above books. Crane Pond is a novelisation of the story of one of the judges from the Salem Witch Trials, the only judge who later admitted that hanging those women had been a mistake. Colour me intrigued!
Crown of Blood: The Deadly Inheritance of Lady Jane Grey by Nicola Tallis: Poor Lady Jane Grey. I've always had a soft spot for her and yet everything I know about her I've learned through documentaries where she's been given a brief mention or through her Wikipedia page, so I'd like to get to know her a bit better with this book.
Game of Queens: The Women Who Made Sixteenth-Century Europe by Sarah Gristwood: I love my women's history and I love my 16th century history and I love Europe, so this is ideal for me!
The Lives of Tudor Women by Elizabeth Norton: What I love about the sound of this book is that it looks at the lives of Tudor women across the spectrum, using four different Elizabeths to explore women's lives from the nobility to the peasantry. I'm a huge Tudor nerd so this sounds great to me.
Tale as Old as Time: The Art and Making of Beauty and the Beast by Charles Solomon: I'm 100% positive this isn't going to be under my Christmas tree because it's not longer in print and second hand sellers tend to sell it for about £250, but a girl can dream. Beauty and the Beast is my favourite film so I'd love to own this one day!
Which books made your list this week?